Inversion, 2000
Site-specific installation commissioned by the RISD Museum, curated by Ernesto Pujol.
A glass bridge connects the contemporary wing of the museum to the historical galleries. Views to the exterior dominate this passageway in contrast to the Museum's typically cloistered interior spaces. This project explores a more ambiguous relationship between dualities of inside/outside, light/dark, and past/present through a visual and conceptual inversion.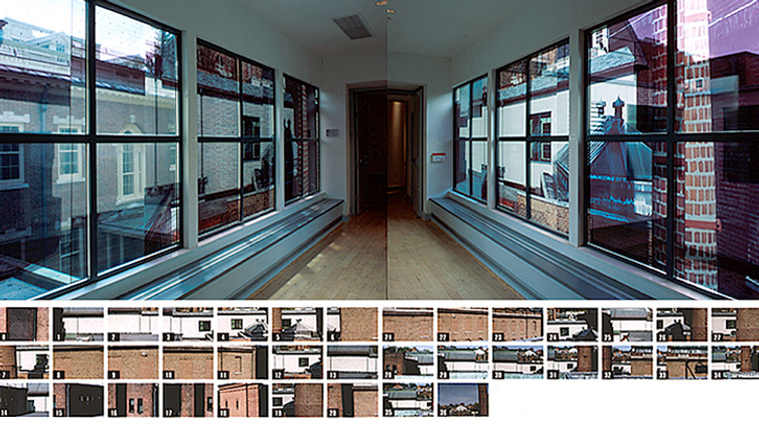 Composite views of the bridge exterior as seen from campus rooftops were constructed and digitally printed on 16 large sheets of static film. Applied to the interior windows, the translucent images map an alternate spatial reality. Through this enveloping yet discontinuous skin, multiple readings of the site are revealed as frame, photograph, shadow, reflection and view become one.
…
Above, two opposing views of the south-facing windows reveal image shifts dependent on the viewer's position and time of day. Below, source image index of bridge exterior.
Commission awarded by the RISD Museum for Sitings 2000 site-specific installation competition. Conceived, developed, and executed in collaboration with Luke Parsons.